Limited Edition Cthulhu Coins by Sandy Petersen & Metallic Legends
Absolutely Incredible
If you read my post on Sandy Petersen's board games Hyperspace just a few weeks ago then you know about the trove of games that Sandy has designed both as video games and tabletop games. One of those hits includes his interpretation and vision of the mythos to create the award winning Call of Cthulhu role playing game. After that, he created the award winning Cthulhu Wars board games. Next he adapted the Cthulhu Mythos to both Pathfinder and D&D 5E. He knows his stuff.
In the board game world, you can't find a better and more passionate Cthulhu expert than Sandy. These coins are an incredible partnership between Sandy and Joe Ward who owns Ultimate Custom Coins. Joe has a lot of experience creating and selling high quality custom designed coins like these with 7 successful kickstarters before this and over 35,000 manufactured and sold coins before.
If you're a fan of Cthulhu, Sandy's work, or incredible craftsmanship, you should consider backing this project and getting this set of unique and special coins. You can get your hands on these starting at $27.
About the Coins
An extraordinary set of ten Limited Edition collectible coins based upon legendary game designer Sandy Petersen's vision of the Cthulhu Mythos.
These coins will ONLY be minted this year. After this year, the molds will be DESTROYED and they will NEVER be minted again.
Amazing 3D sculpted artwork.
Coins are made from a solid zinc alloy metal.
Coins are 2 inches (50.8 mm) in diameter.
Each coin weighs about 2 ounces.
Coins are about 4 mm thick.
The year minted is displayed in Roman Numerals.
Each coin comes with a display stand.
Coins can also be used as game markers or first player tokens.
Metallic Legends is a line of collectible coins produced by Ultimate Custom Coins.
The Coins
Here's the designs of 5 out of the 10 coins. Go to the kickstarter page to see the rest of the designs.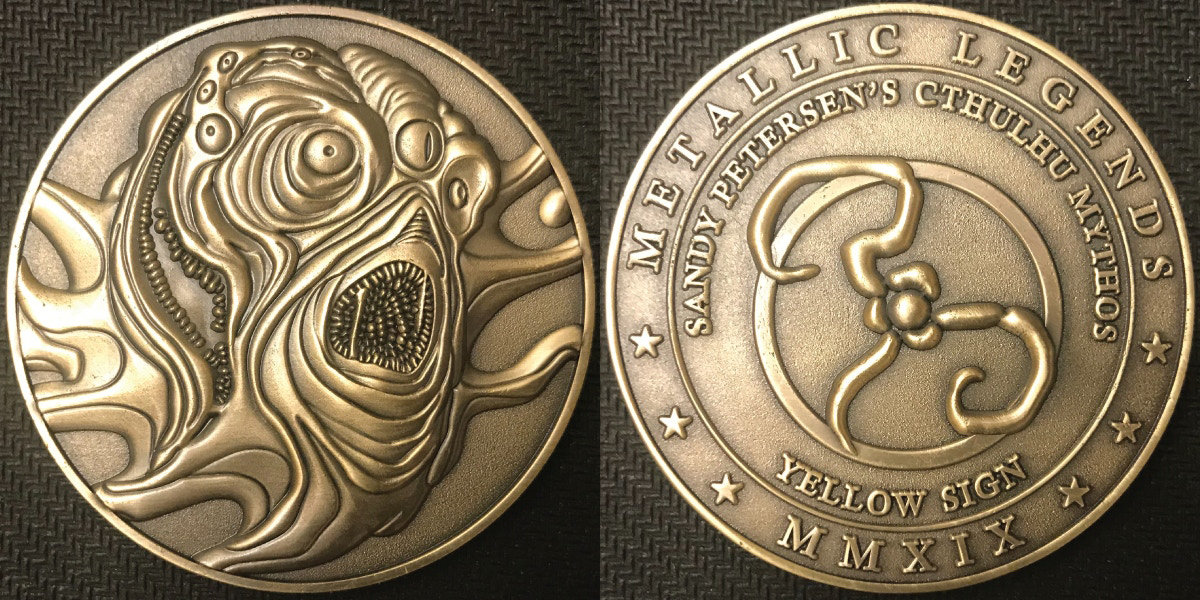 More Coin Designs & Info On Kickstarter
See more coin options and more details on the Kickstarter page! Check it out before it ends on March 24th, 2019!
---