Climb a Tower Built Upon The Remains of a Crashed Far-Future Space Station in Return to Ravingspire
You're Going on a Wild Adventure
The theme of this game caused a double take when I first read through it. "Take on the roles of Heroes climbing the ever-shifting Tower to the Spire and face its Dark Master. But beware! For the Tower lies upon a nexus of space-time, and its portals may as easily lead to other dimensions as they will up the Tower." Maybe I'm a sucker for anything related to space/time travel but the game just feels rich with sci-fi and fantasy in a way that I'm excited to see unfold.
The game features a solid and easy to follow fighting system with guardians you must face on each level of the tower, unless you choose to jump through a portal instead... In watching the battles unfold it looks like a great balance of character building and dice rolling mayhem!
With some good timed spells, quick decision making, and a little luck you'll be able to climb the tower and defeat the Dark Lord of the tower!
Enter into tower for $50. Check it out before the campaign ends on May 16th 2019.
About the Game
Return to Ravingspire is a cooperative questing board game with dice-battle mechanics, based in a land of Swords and Sorcery in a Tower built upon the remains of a crashed far-future space station. The Tower is ever-shifting in space and time, and wielding the Vorpal Artifacts the Heroes may open Portals into other parallel realms and times that the Tower also inhabits.
The challenges are encountered utilizing a series of beautifully-illustrated oversized Tower cards, each representing one level of the labyrinthine Tower of Ravingspire and containing a diverging path for the party each turn. Players control a party of 1-4 heroes who will collectively choose which path to take to defeat or bypass each level guardian. They may choose to face it head-on, battling it with magic and might, or they may decide to avoid its wrath and escape through a nearby Portal, seeking their fortunes in the mysterious lands beyond before returning to the Tower, equipped with hard-fought weapons and treasure.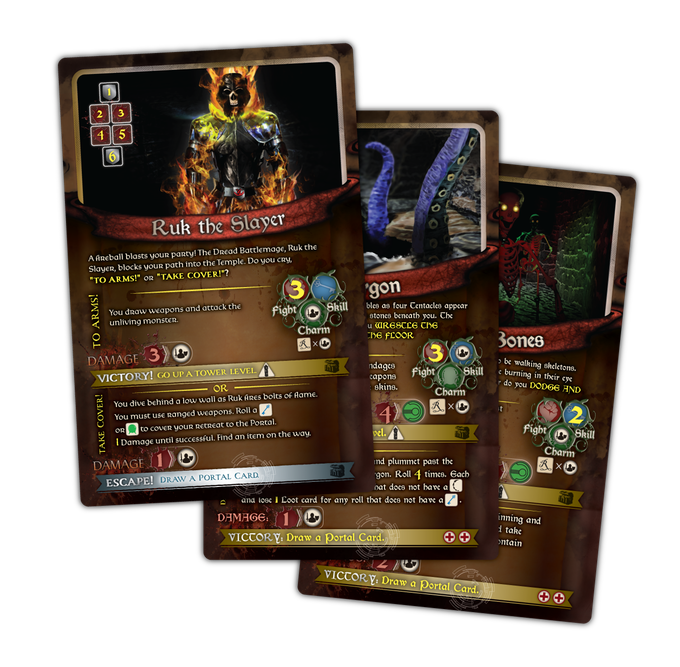 Each 5" x 8" Tower Card presents you with a choice about how you want to face the Encounter. Return to Ravingspire is a stand-alone adventure game, and does not require the original RAVINGSPIRE to play. It comes beautifully packaged in an embossed, leatherette, wooden book-shaped box. When placed upon a bookshelf, the game will resemble the leather-bound spell book of the original Dark Master of the Tower, Lord Ravingspire.
More on Kickstarter
See more about the game on the Kickstarter page! Check it out before it ends on May 16th 2019!
---