Community StatsContributors
Isle of Skye: From Chieftain to King
Isle of Skye, one of the most beautiful places in the world: Soft sand beaches, gently sloping hills, impressive mountains: the landscape of Isle of Skye is breathtaking and fascinates everyone.

In this tile-laying game 2 to 5 players are the chieftains of 5 famous clans. The players try to build their little kingdoms to score as many points as possible. But in each game only 4 of the 16 scoring cards will be scored. Each game is different and leads to different tactics and strategies.

To have enough money is useful in all games: In each turn the players can buy a tile from another player. The seller determines the price, but to do it wisely is the most interesting part of this game: A high price will lead to wealth, if someone buys this tile, but if there's no buyer, the seller will lose the money spend on this tile.

And in the end the player with the best kingdom will become the sovereign of the island, not the richest player!

Isle of Skye is a gateway game for the whole family. With a playing time around 45 minutes , a huge variability and easy rules it's a perfect game for all players. The awesome illustrations by Klemens Franz brings all the athmosphere of the scottish island on your table.
---
---
These links have affiliate codes which support BGA financially.
Community StatsContributors
See All 216
User Ratings & Reviews
Pretty neat game. Like it much more than Carcassonne because everyone gets to evaluate worth of their tiles rather than just randomly getting good or bad ones. Extra coins for players behind also seems neat and can make waiting to score big at the end a more viable strategy. Agree that one negative is it can be difficult to see the symbols on the tiles across the table.

My favourite fast Euro. Nice quick play, big decisions, simple mechanics. Exemplary.

A deeper version of Carcassonne, with a few mechanics that (strangely enough) remind me of Reiner Knizia's Merchants of Amsterdam. And it's got Clan MacLeod in it: what more could a person want?My only real complaint (apart from the ephemeral lightness of the theme) is the catch-up mechanism: it's one pretty weak catch-up mechanism!

A nice simple game about setting auction prices just right and planning for the appropriate scoring rounds. This is not Carcassonne 2.0. This is an entirely different game that features tile laying as a mechanic...
See All
Top Forum Posts
The Impact of Spiel and Kennerspiel des Jahres on the Board Game Industry
[Wingspan, Kingdomino, Codenames, The Quacks of Quedlinburg, Just One, Istanbul, Broom Service, Exit: The Abandoned Cabin, Colt Express, Azul, Exit: Th...]
by philryuh | updated 15 days ago
3
| 11 comments
| [+]
Review
Isle of Skye Review
(https://www.board-game.co.uk/isle-of-skye-review/)
[Isle of Skye: From Chieftain to King]
by trentellingsen | updated 15 days ago
2
| 0 comments
| [+]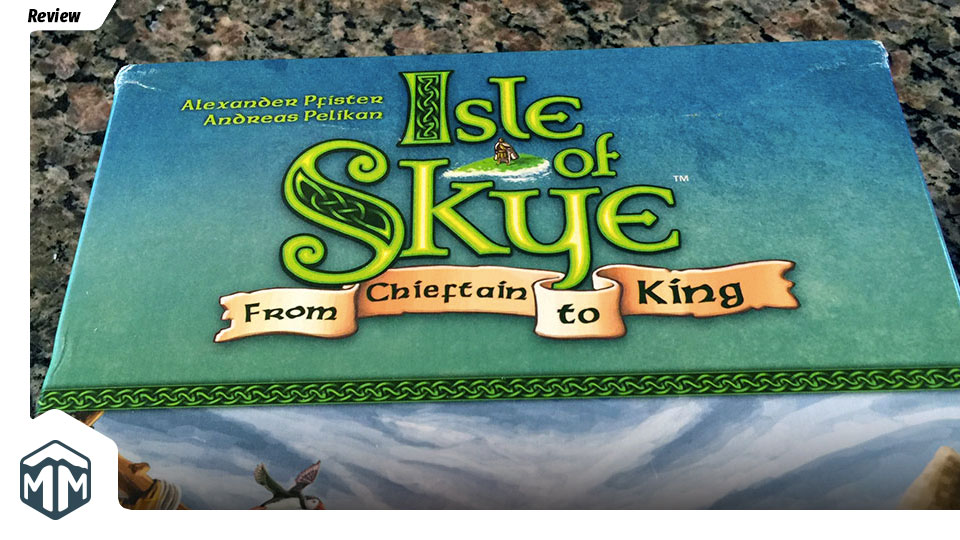 Review
Isle of Skye Review - Come With Me to the Winged Isle | Meeple Mountain
(https://www.meeplemountain.com/reviews/isle-of-skye-review-come-with-me-to-the-winged-isle/)
[Isle of Skye: From Chieftain to King]
by trentellingsen | updated 15 days ago
0
| 0 comments
| [+]
See All
Expansions