Comanauts is a cooperative adventure game for 2-4 players, set in the twisted, sometimes bizarre confines of a slumbering mind. Nothing is what it seems as players hurry through dream spaces, urgently seeking clues that will reveal the key to waking Dr. Strobal. Discover the identities of the inner demons that torment the doctor, track them down to the corners of his mind in which they lurk, and sever the hold they have on his psyche.
---
Players:

2 - 4

Playtime:

60 - 120 min

Year Published:

2019

Minimum Age:

14

Learning: 3.00 / 5

[

Vote]

Strategy: 3.00 / 5

[

Vote]
---
MSRP: $69.95
Lowest: $31.99
These links have affiliate codes which support BGA financially.
See All 6
User Ratings & Reviews
I LOVE this game! But I realize it might not be for everyone. If you are looking for a game that has complex strategy and game mechanics, this might not be the game for you. If you are looking for an intense emotional journey, exploring the complexities of someone's inner psyche whilst playing a game, this is totally for you! My profession is counseling, so I have enjoyed the twists and turns this game offers as you explore deeper into Dr. Martin Strobel's comatose mind uncovering repressed emotions of his past experiences and utilizing clues gained along the way to figure out which inner demon (I.D.) is the prime one that you are coming against in that particular scenario. There is a great deal of replayability with this game as there are many avatars (characters) that you might play as you play through the scenarios. You can play this game as a 6-game campaign or individual sessions. It has a bit of a mystery solving component as you gain clues to figure out the I.D., which I have really enjoyed. As I mentioned above, this game is not super complex when it comes to mechanics. Each turn, you draw 5 random dice that are different colors with corresponding actions which then help determine how you choose to go about your turn. Sometimes these can have some pretty direct tie-ins thematically, if you take the time to consider how it plays into the overarching story. If you're looking for something different to add to your collection, this is a great game to explore! As a disclaimer, there may be some situations in the game that may bring up certain emotional situations from your own life which might be a bit difficult to process during/post- gameplay. I would not say this is a deterrent to playing the game, but something to be aware of going into it if you haven't yet or are currently processing through traumatic life events or difficult circumstances in your life.
See All
Top Forum Posts
Review
Comanauts Review - Walking Boulevards of Broken Dreams
(https://www.meeplemountain.com/reviews/comanauts-review-walking-boulevards-of-broken-dreams/)
[Comanauts]
by meeplemountain | updated 8 months ago
1
| 0 comments
| [+]
Review
Subconsciously challenging — Comanauts review
(https://gamingtrend.com/feature/reviews/subconsciously-challenging-comanauts-review/)
[Comanauts]
by trentellingsen | updated 16 months ago
1
| 1 comment
| [+]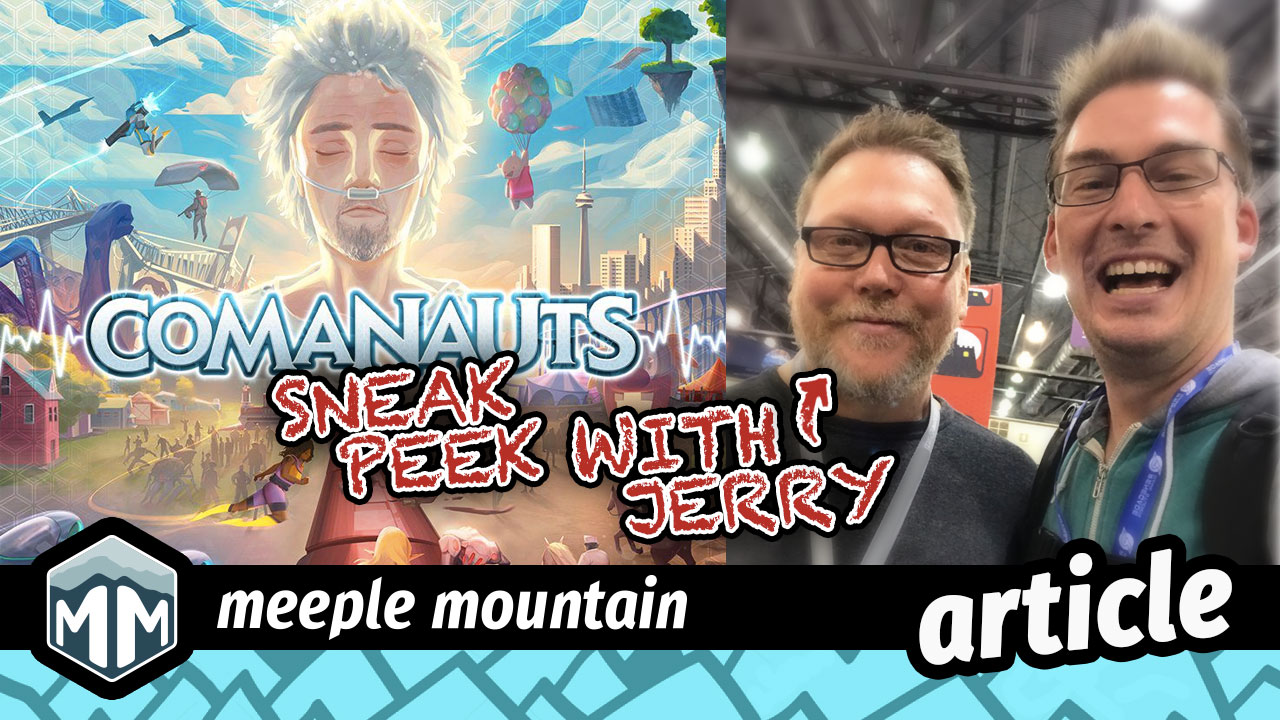 Review
Comanauts Sneak Peek, and a Glimpse Into the Future of Adventure Book Games
(https://www.meeplemountain.com/articles/comanauts-sneak-peek-glimpse-future-adventure-book-games/)
[Comanauts]
by trentellingsen | updated 16 months ago
1
| 0 comments
| [+]