Beauty is in the eye of the beholder, but in the high-stakes world of fine art auctions, there's nothing more beautiful than making a buck.

In Modern Art, players take on the role of curators, buying and selling paintings for their museum. Over the course of four rounds, they take part in a number of auctions, trying to get the best value for the pieces in their collection. Whoever makes the most money wins the game (and keeps their job).
---
---
These links have affiliate codes which support BGA financially.
See All 121
User Ratings & Reviews
Knizia hits another home run for me. This game is loaded with a variety of strategies. Knowing how much to pay, which paintings to sell, and how much to expect people to pay are all tough choices. And there is a great build to the game as players gather more and more cash each season, but the bids become more and more educated. I'm impressed by all the variety that can be found with just a few different styles of auctions.But what really makes this game shine for me is the suggested variant rule that my brother instituted. We played that you have to not only name the painting you are selling but also take on the role of a salesperson. This lended a real party game atmosphere as we chuckled about the paintings and used ridiculous accents. However, even with all this humor added it doesn't detract at all from the very strategic game that is underneath.

Knizia auction game. The gameplay of Modern Art feels a bit like Medici but it is in all aspects more gut-wrenching and mind-numbing than that game (in a good way!) Each and every auction in the game involves an enormous amount of variables which need to be evaluated.

One of the best auction games if not the best. My only gripe is the game can be rather fragile with new players having a particularly rough time figuring out how to best value the auctions leading so some very unsatisfying games. But with a full complement of experienced players, the game really hums

--05Aug2004-- Really nice game. And my family likes it too!The best part, of course, is the whole groupthink dynamic: when with a bunch of people that all bid irrationally high, you're going to lose unless you bid above a rational comfort zone. Equally, with a bunch of conservative bidders, a degree of accomodation is needed. What's more, while the old one is unquestionably nicer, the new Mayfair version - in my highly overrated opinion - is entirely playable and a great value for the money.
See All
Top Forum Posts
Review
Modern Art Board Game Overview
(http://www.sahmreviews.com/2018/01/cmon-modern-art.html)
[Modern Art]
by trentellingsen | updated 20 days ago
0
| 0 comments
| [+]
Review
Modern Art Review
(https://www.miniaturemarket.com/reviewcorner/modern-art-review/)
[Modern Art]
by trentellingsen | updated 20 days ago
0
| 0 comments
| [+]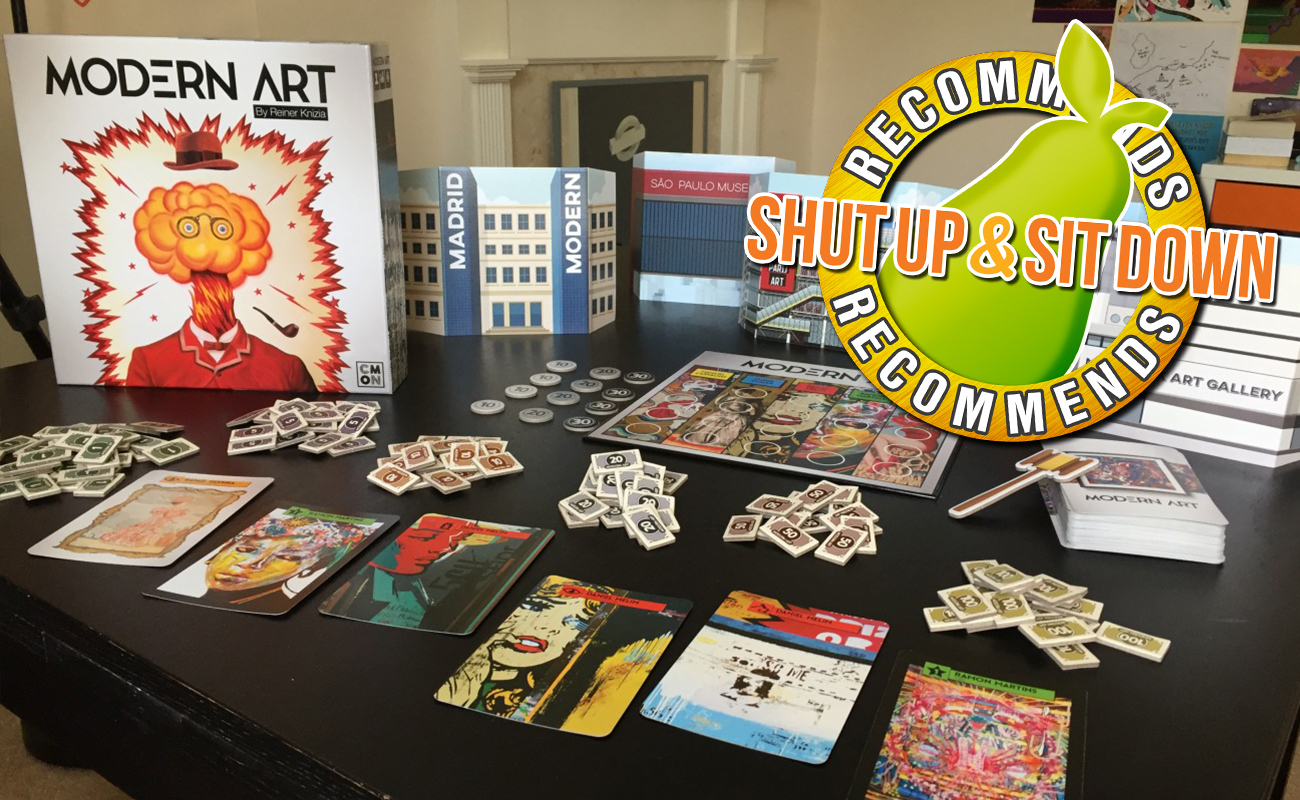 Review
Review: Modern Art » Shut Up & Sit Down
(https://www.shutupandsitdown.com/review-modern-art/)
[Modern Art]
by trentellingsen | updated 20 days ago
0
| 0 comments
| [+]
Review
A Board Game Review of Modern Art
(http://www.dukesofdice.com/brush-greatness-review-modern-art/)
[Modern Art]
by trentellingsen | updated 20 days ago
0
| 0 comments
| [+]