Beauty is in the eye of the beholder, but in the high-stakes world of fine art auctions, there's nothing more beautiful than making a buck.

In Modern Art, players take on the role of curators, buying and selling paintings for their museum. Over the course of four rounds, they take part in a number of auctions, trying to get the best value for the pieces in their collection. Whoever makes the most money wins the game (and keeps their job).
---
---
See All 109
User Ratings & Reviews
Pure auction game with an interesting scoring influence mechanic that imitates the way pieces of art go up in value. Challenging for newcomers, since correctly evaluating said values is a huge part of the game.

I think that this should be in everyones collection. I think it is THE auction game to have.

Game is good, but the art...Bleh!I prefer Members Only by the same designer.

Not my favorite Knizia Auction Game. I like it, but Ra and Medici are better than this. This one does have the interesting dynamic in being able to sell products to earn money instead of just making good pickups. However, this seems heavily weighted in who gets the most double auctions and plays best to make those worth enough money in the early rounds for the big pickups in late rounds.
See All
Top Forum Posts
Review
Modern Art Board Game Overview
(http://www.sahmreviews.com/2018/01/cmon-modern-art.html)
[Modern Art]
by trentellingsen | updated 16 months ago
1
| 0 comments
| [+]
Review
Modern Art Review
(https://www.miniaturemarket.com/reviewcorner/modern-art-review/)
[Modern Art]
by trentellingsen | updated 16 months ago
1
| 0 comments
| [+]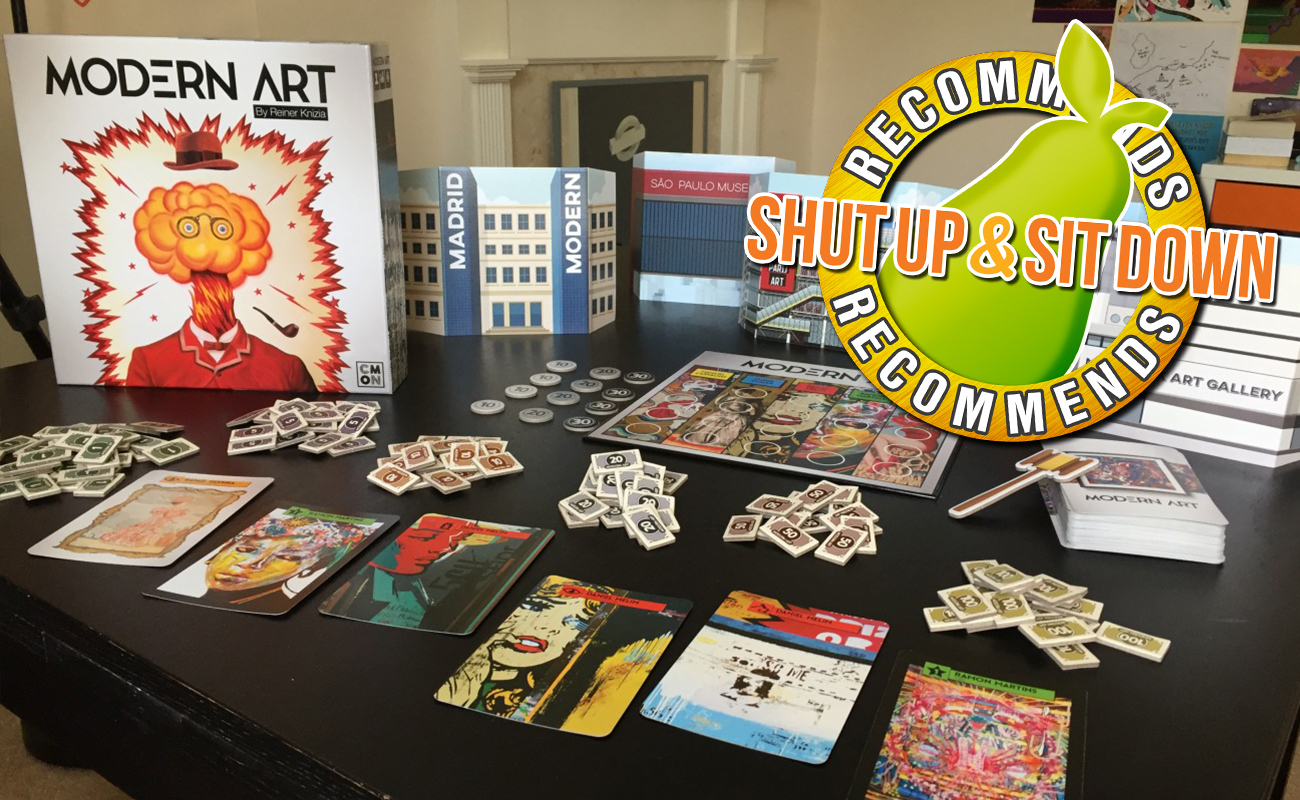 Review
Review: Modern Art » Shut Up & Sit Down
(https://www.shutupandsitdown.com/review-modern-art/)
[Modern Art]
by trentellingsen | updated 16 months ago
1
| 0 comments
| [+]
Review
A Board Game Review of Modern Art
(http://www.dukesofdice.com/brush-greatness-review-modern-art/)
[Modern Art]
by trentellingsen | updated 16 months ago
1
| 0 comments
| [+]