Cards Against Humanity is a party game for horrible people. Unlike most of the party games you've played before, Cards Against Humanity is as despicable and awkward as you and your friends.

The game is simple. Each round, one player asks a question from a Black Card, and everyone else answers with their funniest White Card.

Reviews of Cards Against Humanity:

"Pretty amazing." - The Onion AV Club
"An incredible game." - Mike "Gabe" Krahulik, Penny Arcade
"Uncontrollable laughter." - Kill Screen Magazine
"The game your party deserves." - Thrillist
"A game." - The Daily Beast
---
Players:

4 - 30

Playtime:

30 min

Year Published:

2009

Minimum Age:

17

Learning: 1.00 / 5

[

Vote]

Strategy: 1.00 / 5

[

Vote]
---
These links have affiliate codes which support BGA financially.
See All 213
User Ratings & Reviews
Bought: May 20115 - 22 - 2, L3My Review: A Year With Cards Against Humanity

Can, at times, generate real, genuine laughter, but often becomes repetitive, and most players of CAH don't go for the more clever card combinations. The description "Lego for jokes" is the nail in the coffin-- lots of other games can be much funnier thanks to the efforts of the players, and in fact Lego allows for much more creative expression than this. In CAH, literally any group of experienced players I've played will at times preface their black cards with "If you play X card, you win" because the jokes are so obviously constructed. It creates shock humor that fails to be shocking, because it is so artificial. It has been a passable icebreaker with certain groups of people, but if I could replace it entirely with another game, I happily would.

Another game hard core gamers understandably despise but we love. I get why it's not everyone's cup of urine, it's simple and childish. Even though there isn't much gameplay, it is 100 percent dirty, hilarious fun and has brought countless hours of great memories. With the right group of people and a few adult drinks I'd choose to play this almost anytime. I don't really play games to prove my intellect, I just play to have a good time and this really delivers with fun people. As a game it's a 3, but as a source of entertainment it's a 10.
See All
Top Forum Posts
Review
Cards Against Humanity UK Editon Review
(https://www.board-game.co.uk/cards-against-humanity-review/)
[Cards Against Humanity]
by trentellingsen | updated 20 days ago
0
| 0 comments
| [+]
Review
Cards Against Humanity Review | Board Game Quest
(https://www.boardgamequest.com/wp-content/cache/wp-rocket/www.boardgamequest.com/cards-against-humanity/index-https.html)
[Cards Against Humanity]
by trentellingsen | updated 20 days ago
0
| 0 comments
| [+]
Review
Letter of Complaint: Cards Against Humanity - The New York Times
(https://www.nytimes.com/2016/10/07/magazine/letter-of-complaint-cards-against-humanity.html)
[Cards Against Humanity]
by trentellingsen | updated 20 days ago
0
| 0 comments
| [+]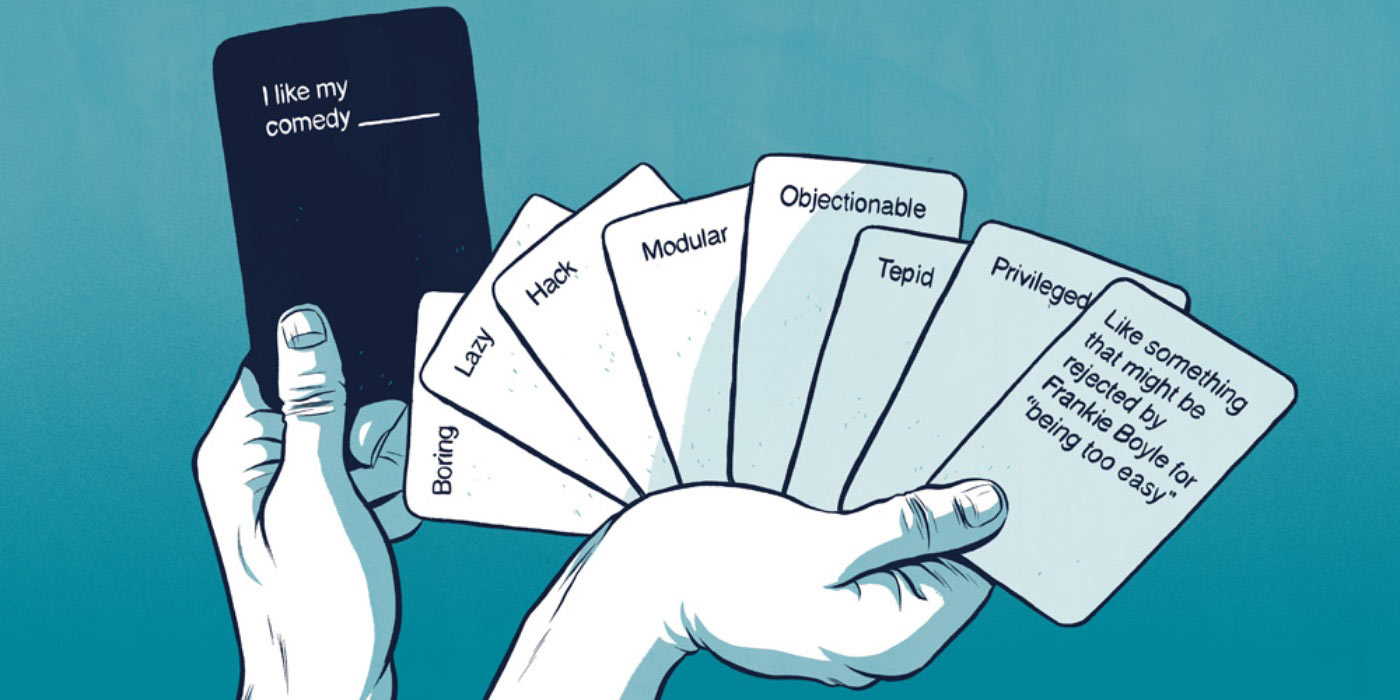 Review
Review: Cards Against Humanity » Shut Up & Sit Down
(https://www.shutupandsitdown.com/review-cards-against-humanity/)
[Cards Against Humanity]
by trentellingsen | updated 20 days ago
0
| 0 comments
| [+]
Review
Why I quit playing Cards Against Humanity | The Daily Dot
(https://www.dailydot.com/via/cards-against-humanity-problems/)
[Cards Against Humanity]
by trentellingsen | updated 20 days ago
0
| 0 comments
| [+]
Review
Cards Against Humanity Review - The Best Party Game of 2017
(http://seftimorlive.com/cards-against-humanity-review/)
[Cards Against Humanity]
by trentellingsen | updated 20 days ago
0
| 0 comments
| [+]
See All
Expansions
Players: 4 - 30
Playtime: 30 min

Designer:

Max Temkin

Publisher:

Add