Community StatsContributors
The Resistance is a very intense game of secret identities deductiona and deception for 5-10 players.
---
---
These links have affiliate codes which support BGA financially.
Community StatsContributors
See All 304
User Ratings & Reviews
Best social deduction game. The game involves deduction and social awareness with clever and interesting mechanics. I will always play it. Good with 5-6 players, best with 7-8.

(2019 - 7) If we're looking to play this old school social deduction game, we'll play Avalon every single time.(2015 - 9)A good game but improved upon by it's successor, Avalon. If you prefer the cyperpunk theme, you could designate a ,"Merlin" card and still play by Avalon's rules.

This is the game I was looking for when people tried to sell me on Werewolf. The concept is roughly the same, because the Resistance players have no genuine clues about the identity of the Spies, but here players aren't getting eliminated. I also like that you can use the voting to help deduce who might be working against the team. Then they add in those action cards which can give even more information, and I'm sold. It doesn't have quite the thematic thrill that I get from Shadow Hunters, but it's still fun. I like being on both sides of the game, and playing multiple games in one night is often more fun. Thankfully the game is also ridiculously short so you can play it as many times as you want in one session. Very fun game.
See All
Top Forum Posts
Review
The Resistance Review - As a Board Gamer
(http://www.asaboardgamer.com/review/the-resistance/)
[The Resistance]
by trentellingsen | updated 15 days ago
0
| 1 comment
| [+]
Review
The Resistance Review | Board Game Tavern
(http://boardgametavern.com/the-resistance-review/)
[The Resistance]
by trentellingsen | updated 15 days ago
0
| 1 comment
| [+]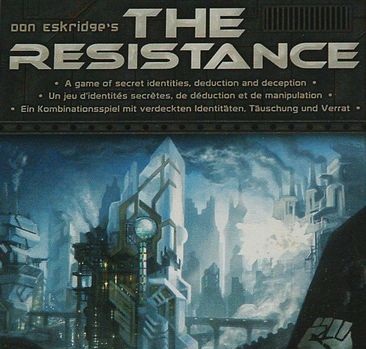 Review
It's hard to resist The Resistance - The Board Game Family
(https://www.theboardgamefamily.com/2012/06/the-resistance-board-game-review/)
[The Resistance]
by trentellingsen | updated 15 days ago
0
| 0 comments
| [+]
Review
The Resistance Review | Board Game Reviews by Josh
(http://www.boardgamereviewsbyjosh.com/2011/09/resistance-review.html)
[The Resistance]
by trentellingsen | updated 15 days ago
0
| 1 comment
| [+]
Review
Review: The Resistance
(http://islaythedragon.com/game-reviews/viva-la-resistance-a-review-of-the-resistance/)
[The Resistance]
by trentellingsen | updated 15 days ago
0
| 1 comment
| [+]
See All
Expansions