Conquer Territory! Defeat Your Enemies! Appease the Gods!
In Kemet, players lead a tribe of ancient Egyptians as they strategically maneuver their troops to control the most territories and battle against their rivals. Draw upon the powers of the Egyptian gods and recruit mythical creatures to reinforce your armies and vanquish those who oppose you and your ambitions!
---
---
MSRP: $69.99
Lowest: $44.00
These links have affiliate codes which support BGA financially.
See All 142
User Ratings & Reviews
One the best area control games I've ever played. Drafting power tiles, trying to build some sort of economy that works all while combat takes place every round with zero luck. Add on top the ability to get giant mythological monsters and you're in for a fantastic time.

The minis in this one a SO nice. And it's a really fun game too.

Oh wibbley wobbley woo, this game will bloomin do! It is my favourite DOTM game and I will always want to play it. Stargate the board game, lovely
See All
Top Forum Posts
That is a monster size game board
(https://www.instagram.com/p/BtSpcVtBBKT/?utm_source=ig_web_copy_link)
[Kemet]
by rockstar | updated 16 months ago
1
| 0 comments
| [+]
Review
Board Game Review - Kemet
(http://www.cephalofair.com/2014/01/board-game-review-godly-evening-kemet.html)
[Kemet]
by trentellingsen | updated 16 months ago
1
| 0 comments
| [+]
Review
Kemet Review | Board Games | Zatu Games UK
(https://www.board-game.co.uk/kemet-review/)
[Kemet]
by trentellingsen | updated 16 months ago
1
| 0 comments
| [+]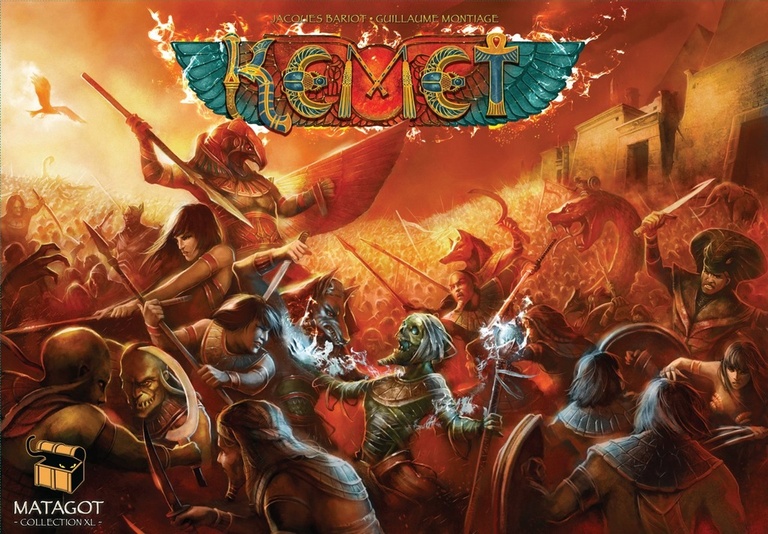 Review
Kemet » Shut Up & Sit Down
(https://www.shutupandsitdown.com/games/kemet/)
[Kemet]
by trentellingsen | updated 16 months ago
1
| 0 comments
| [+]
Review
Kemet Review - As a Board Gamer
(http://www.asaboardgamer.com/review/kemet/)
[Kemet]
by trentellingsen | updated 16 months ago
1
| 0 comments
| [+]
See All
Expansions