Community StatsContributors
mdoom

Added published year, and alternate names, Added mechanics and categories

lon

Add artist and designers (Morten is the 1 player designer)

trentellingsen

rules and site
Between Two Cities is a partnership-driven, tile-drafting, city-building game for 1-7 players that plays in about 20-25 minutes. You work with the player on your left to build one city center while simultaneously working with the player on your right to build a second city center. At the end of the game, your final score is that of the lower scoring city you helped to build, so you have to share your attention and devotion equally between two cities.
---
---
These links have affiliate codes which support BGA financially.
Community StatsContributors
mdoom

Added published year, and alternate names, Added mechanics and categories

lon

Add artist and designers (Morten is the 1 player designer)

trentellingsen

rules and site
See All 132
User Ratings & Reviews
It fully understands the potential of drafting as an interactive thing-- one of the most common questions in a game of BTC is "we're passing left, yeah?" because you want to be certain you're handing your partner a hand that will turn out more favorable for their city on your side. The semi cooperative tile placement is a blast. Not super deep beyond that, but full of interesting decisions and light enough to play a few times in a night and not cut heavily into the time other games need.

Play tested this game. Great, fast tile laying game with very interesting cooperative mechanic. This is a mash up of my favorite parts of Suburbia and 7 Wonders with out any of the fat. Supports 1-7 players and the 7 player game takes the same time as the 3 player. Everyone I played with liked it and wanted to play "just one more game!"

Fast and fun. While there is some strategy involved, it's very light strategy. Much of the game boils down to luck of the draw.

I play this game often with "non-board-game-hobby" (people who like the occasional board or card game) and they love playing it. its simple to teach and play. the game moves quickly. And always makes you think about interesting combos.
See All
Top Forum Posts
How you ever seen yourself as a fanboy/girl for a designer or publisher?
by Skyw3rd | updated 19 days ago
2
| 3 comments
| [+]
TOP 10 BOARD GAMES FOR 6+ PLAYERS
[Deception: Undercover Allies, When I Dream, Mascarade, Between Two Cities, Samurai Spirit, Deception: Murder in Hong Kong, Just One, Telestrations, Mu...]
by rathskellers | updated 19 days ago
1
| 9 comments
| [+]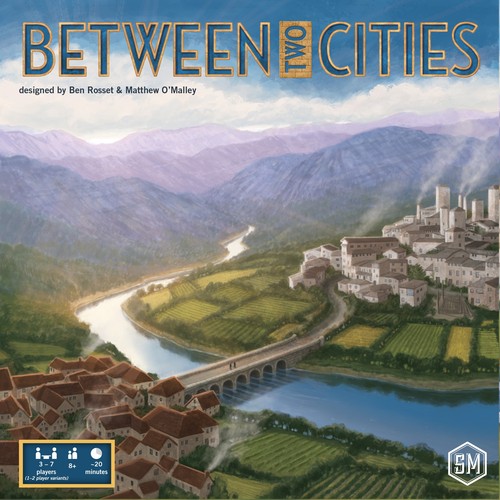 Review
Between Two Cities board game review
(https://www.theboardgamefamily.com/2016/02/between-two-cities-board-game-review/)
[Between Two Cities]
by trentellingsen | updated 19 days ago
0
| 0 comments
| [+]
Review
Review of Between Two Cities (Stonemaier Games) | The Opinionated Gamers
(https://opinionatedgamers.com/2015/10/23/review-of-between-two-cities-stonemaier-games/)
[Between Two Cities]
by trentellingsen | updated 19 days ago
0
| 0 comments
| [+]
Review
Review – Between Two Cities – Strange Assembly
(https://www.strangeassembly.com/2015/review-between-two-cities)
[Between Two Cities]
by trentellingsen | updated 19 days ago
0
| 0 comments
| [+]
Review
Between Two Cities – Stonemaier Games
(https://stonemaiergames.com/games/between-two-cities/)
[Between Two Cities]
by trentellingsen | updated 19 days ago
0
| 0 comments
| [+]
See All
Expansions