Community StatsContributors
Nowhere is nature's beauty quite so evident as in the resplendent colors of an arboretum.
In Arboretum, you create carefully planned paths for your visitors to walk as they take in the colorful explosion of buds and leaves. The cheerful cherry blossom, the fragrant dogwood, the mighty oak - all have a place in this peaceful haven. But the tranquil setting belies the game's competitive heart. You must choose which cards to plant in your arboretum and which to keep in hand, as only the most expert curator will win the renown of nature enthusiasts everywhere.

Arboretum is a strategic card game that challenges players to create the most beautiful path through the garden. Choosing the correct cards and placing them in the most efficient orientation will score you the most points at the end of the game. With elegantly simple rules, Arboretum offers players surprisingly complex choices.
Deluxe edition:
The deluxe edition offers fans a chance to enjoy the elegance of the game with an engraved and heat-treated wooden box, premium rainbow foil cards, an embroidered fabric bag, and a beautiful full color sleeve for the box.

---
Players:

2 - 4

Playtime:

30 - 45 min

Year Published:

2015

Minimum Age:

8

Learning: 2.00 / 5

[

Vote]

Strategy: 3.00 / 5

[

Vote]
---
These links have affiliate codes which support BGA financially.
Community StatsContributors
See All 201
User Ratings & Reviews
I would rather play hanamikoji for 2 players light brain burner game

Played 2-player. Wonderful! Agonising to have to discard. Often all the cards in your hand are keepers. Edit: Played recently again, and was reminded how great this game is. That simple idea that you must keep a card in your hand to be eligible to score is brilliant. Do I keep the 8? It's higher than 7 but he could play a 1 and turn my 8 into a 0! Was the 1 already discarded? I can't remember! Which card should I discard? I want them all! I'm invested in three trees and he fancies his chances with three by the looks of it. I need to make sure I have some cards in those trees too, so I can scupper his plans. But wait, I need to discard something. Nooooooo!

It slaps! Similar to Battle Line in that it feels like the best parts of poker, but with fewer mechanics lifted straight from poker. Instead it uses a similar deck of cards to encourage bluffing with a neat spatial component. Despite not being too heavy, it's still a bit much for some of my non-gaming family, which is a shame. But for even the most casual of gamer friends, this is a hit.In a game with four players, we once had a three-way tie, even with the tiebreakers. I don't think any of us have gotten around to planting our tree.
See All
Top Forum Posts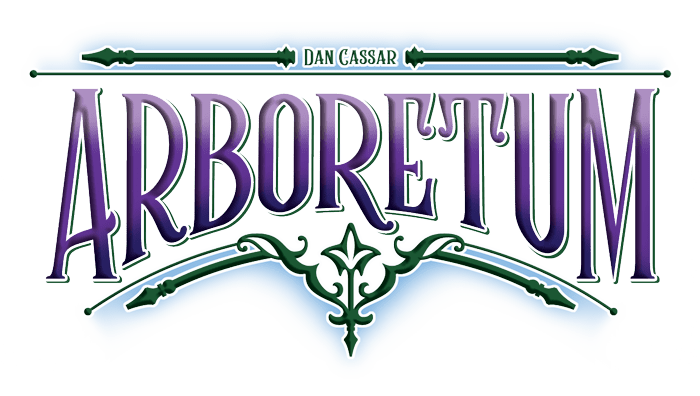 Weekly Challenge #2, Part 3: Arboretum
[Arboretum]
by nealkfrank | updated 15 days ago
3
| 2 comments
| [+]
RGL Top 10 - Perfect Pub Board Games - www.rathskellers.com
(https://www.rathskellers.com/rgl-top-10-perfect-pub-board-games/)
[Arboretum, Cosmic Encounter, Skull, Cockroach Poker, Hive Pocket, Azul, Carcassonne, Jenga, Condottiere, Exit: The Secret Lab]
by rathskellers | updated 15 days ago
1
| 6 comments
| [+]
Review
Arboretum Card Game Overview
(http://www.sahmreviews.com/2019/04/renegade-game-studios-arboretum.html)
[Arboretum]
by sahmreviews | updated 15 days ago
1
| 0 comments
| [+]
Review
Dale Yu: Review of Arboretum
(https://opinionatedgamers.com/2018/12/22/35841/)
[Arboretum]
by trentellingsen | updated 15 days ago
0
| 0 comments
| [+]
Review
Review: Arboretum
(http://islaythedragon.com/featured/going-out-on-a-limb-a-review-of-arboretum/)
[Arboretum]
by trentellingsen | updated 15 days ago
0
| 0 comments
| [+]
Review
Dale Yu: Review of Arboretum | The Opinionated Gamers
(https://opinionatedgamers.com/2015/02/23/dale-yu-review-of-arboretum/)
[Arboretum]
by trentellingsen | updated 15 days ago
0
| 0 comments
| [+]