Lords of Hellas is a fast-paced territory control game with adventure elements for 1-4 players. The game is set in the Dark Age of Greece, an era shrouded in mystery. This unique setting, combining classical Greek mythology with Sci-Fi elements, creates an amazing aesthetic with miniatures, great 2D art and other components.

Players choose a unique hero to control and compete with one another for victory which can be achieved in multiple ways: from classical territory control, to adventure-style monster hunting.
---
Players:

1 - 4

Playtime:

60 - 90 min

Year Published:

2018

Minimum Age:

14

Learning: 3.00 / 5

[

Vote]

Strategy: 4.00 / 5

[

Vote]
---
These links have affiliate codes which support BGA financially.
See All 37
User Ratings & Reviews
I think there should be more restrictions to the build monument action and the 5 temples win condition.

4 game so far, 1 solo, 2-2 player and 1 3 players. I really enjoy this, it has a nice feel, it isn't all about fighting each other but that is a component to it. Not too sure about the quests that the heroes go on, they seem a little bit of a waste of time. Will be playing it again soon no doubt.

For me is the best dudes on the map game out there. It combines the best elements from many area control games out there. Production quality is top, multiple paths to victory, and you must always take care what your opponents do first.

Some glaring issues that need house rules to fix.
See All
Top Forum Posts
File
Lords of Hellas Player Aid
(https://s3-us-west-1.amazonaws.com/5cc.images/games/userfiles/1587913989821-Lords_of_Hellas_Player_Aid_v1.3.pdf)
[Lords of Hellas]
by katerosk | updated 19 days ago
1
| 0 comments
| [+]
Review
Lords of Hellas Review - Game Cows
(https://gamecows.com/lords-of-hellas-review/)
[Lords of Hellas]
by bdtruong | updated 20 days ago
1
| 7 comments
| [+]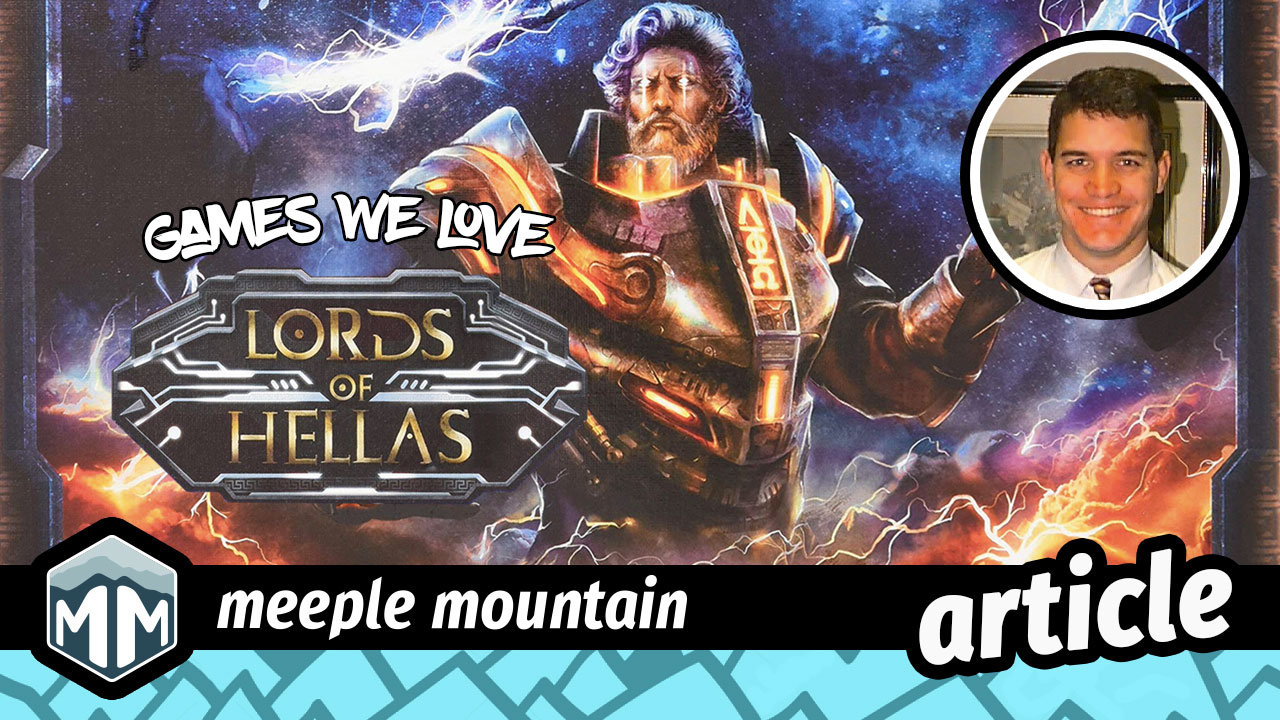 Review
Games We Love: Lords of Hellas? Hell yes!
(https://www.meeplemountain.com/articles/games-we-love-lords-of-hellas-hell-yes/)
[Lords of Hellas]
by trentellingsen | updated 20 days ago
1
| 0 comments
| [+]
See All
Videos
Lords of Hellas - Whats in the Box? - 4K
(https://www.youtube.com/watch?v=Lj54AbmnvEw)
[Lords of Hellas]
by athex | updated 19 days ago
1
| 0 comments
| [+]
See All
Expansions
See All
Files
File
Lords of Hellas Player Aid
(https://s3-us-west-1.amazonaws.com/5cc.images/games/userfiles/1587913989821-Lords_of_Hellas_Player_Aid_v1.3.pdf)
[Lords of Hellas]
by katerosk | updated 19 days ago
1
| 0 comments
| [+]
Add file