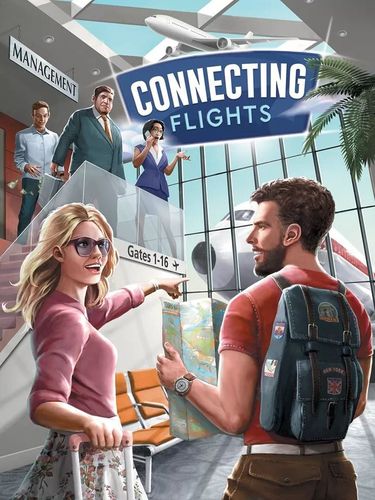 Before I begin, I was sent a prototype of the game and may receive a production copy of the game in exchange for an honest review. This is not a paid preview. If you want to check out the video preview you can check it out below. Get your own copy here.


Long term planning, travel, organization, and logistics. What do all of these things have in common? They are things that I do not particularly enjoy, however, they are things that my wife does enjoy. So it was with this in mind-well this and the fact that my wife has been pretty much my only game test buddy for the past year-that I agreed to preview Connecting Flights, from the solo and coop angle.

Now this does not mean that I have not looked at the competitive mode, nor does it mean that I am not taking it into any account in this review, but it does mean that I have only played the game solo, and coop.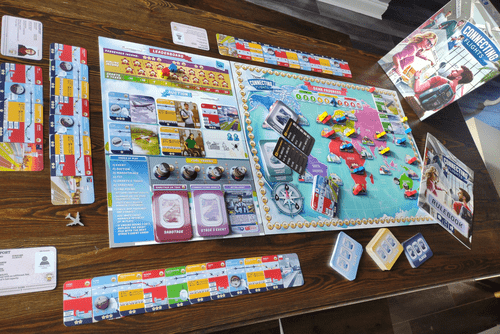 In the non-competitive variant of the game you are attempting to build up your air empire to the point where you are able to clear the board of all remaining stranded passengers. That is, you are creating flights that will get them from whatever city they have started in, back to their home continent. Do this before 10 turns is up, and you have won.

To do this you will be managing your money (which starts at 100, and will grow by 45 each turn) to purchase planes, fuel, airports, passengers, and the right to land at certain airports. Once you have made your purchses you will string your airports, planes, and passengers together to create routes which will start moving passengers around the board.

This all sounds simple enough, but the problem is that passengers will keep popping up on the map, in places that are extremely difficult for you to get them out of, and/or they want to go somewhere that you may not have an airport for, or somewhere that you may not have enough fuel to send them. Heck, they might just be so posh that they are not willing to fly with you unless you can guarantee them a first class ticket.

When playing the competitive game, things get a bit more complicated, there is an auction phase, which makes purchasing things slightly more complex, there are also events that mix things up, varied income for each player depending on who you have flown where, and there all important sabotages that you can level at other players.

So what do I think?

Delectable

It is very satisfying to build a flight, the way it looks on the table is nice, and seeing those meeples leave the board is extremely satisfying. Along with that the puzzle of figuring out just what it is that you need to buy now to use now, and what you should invest in for a later purchase is just a delight. Along with that playing coop, though harder, is a very cool puzzle, as you find yourself flying passengers from, say, Bogota to Nairobi to Mombai; only to pass them off to the other player who can fly them from Mombai to London to New York (which is where they wanted to go in the first place) is a truly delightful puzzle...if not a horrible travel plan.

This is an extremely thinky game, with a very challenging puzzle for the solo and coop game. I also think that the additional elements that you have in the competitive game should really make for a fun, if not highly aggressive and cutthroat, multiplayer experience, as the core of the flight building is still there, and that is the best part of the game in my opinion.

Tasty

The art is good, and the brightly colored board easy to read. As of now there are only three different types of passengers (art styles) in the game, but I hope that as the game is fulfilled that there will be many more. This game has a wonderful opportunity to show cultures from all over the world and I hope they take it.

Edible

It is a shame that there is no way to play the coop mode with more than two players, and it is also a shame that the game is simply harder when played coop vs true solo. I would love to see more development to expand the solo/coop experience. There is also the possibility that the solo/coop mode is "solvable". While there is some randomness to where the passengers show up, and when cards hit the market, I am not sure that there is not a strategy that will win most games, once you master it. I know that they are looking at a stretch goal to add scenarios to the solo/coop game which could rectify this.

Bringing it all together

Connecting Flights is a brain melting style puzzle as a solo and coop game. The mechanics are tight, and relatively simple to master. The board has a good look to it, though the prototype has not taken the opportunity to highlight people from a huge range of cultures that this game screams for. The coop experience unfortunately tops out at two players, and without the potential KS stretch goal scenario cards could be "solveable". The competitive variant has greater complexity and potential to be both fun, and extremely cutthroat.

Can't read now! Flight to catch!

* Brain melting puzzle
* Very satisfying mechanics for creating flights
* Good looking components, hope to see the final version capitalize on the great diversity potential
* Non-competitive mode tops out at two players
* Non-competitive modes feels solvable without KS stretch scenarios
* Competitive mode is more complex with great potential
* Competitive mode looks to be very cutthroat