Before I begin, I was sent a prototype of the game, and will receive a copy of the game should it fund.  This is not a paid preview.  You can check out a video of this preview below. You can get your own copy here.
There is something delightful about a game that knows what it is about, and does it well.  It would seem that it should not be particularly hard to find games like this, but it takes a truly subtle touch of designer/developer to make it happen.  As it so happens, I have found all of the Steve Finn games I have played in past have attempted to do just that, usually successfully.
I, relatively, recently covered Herbaceous: Pocket Edition, and enjoyed it, with its set collection, push your luck style game play.  It is quick, clever, and enjoyable…though I am not sure it is something that needs to be expanded on, which I assumed based on title is what Floriferous was going to do.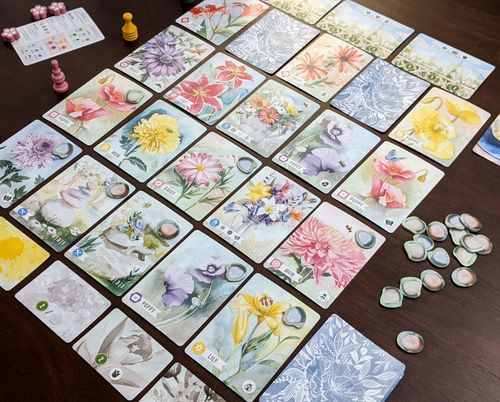 As it turns out…I was wrong-shocking, I know.  Floriferous has nothing to do with Herbaceous, other than the "aceous-ness" of it.  Well that and you are set collecting.  In Floriferous you select cards from a series of 5 columns.  Whoever selects the card closest to the top of the column will get to act first the next turn.  You will play through 3 rounds of 5 selections, then total up your points.
As you play through the rounds you will collect the larger cards, which are either flowers, with or without bugs on them, point scoring flower arrangements, or garden structures. However, at the bottom you also have a variety of scoring cards you can collect.  These cards will get you points based on the types of flowers, and bugs you have collected.  Of course, if you collect one of these, you are not collecting a larger flower card, and you will go last in the following round.
So what do I think?
Delectable
The artwork is gorgeous.  It is probably my favorite of all the art in the Pencil First Games catalogue…the only exception possibly being Skulk Hollow, but that is completely different.  I can just stare at the cards for quite some time, it is just stunning.
The mechanics of the game are very tight, there are not wasted moments.  However, at the same time, the game has a very large decision space.  There are so many choices that you have each round, it really makes the game take on a much more strategic mindset than you might initially think.
Tasty
The solo mode works and is enjoyable, though this game definitely plays better with another person.  I will also just note that this is a streamlined, and simple game.  If you are expecting great depth and long gameplay…then you have very clearly wandered into the wrong article.
Edible
You can absolutely hamstring yourself in this game.  The choices, are real, and they are challenging.  If you are not thoughtful about what you are doing, you will find yourself getting obliterated.  Is this a bad thing?  Not necessarily, but I was surprised to discover that this is a game that does not hold you hand, and does not particularly care about your feelings!
Bringing it all together
Floriferous is yet another example of why Steve Finn, and Pencil First Games should keep working together.  The game is perfectly streamlined, portable, and fast; yet it has a deceptively high level of decision space in every game.  The art is STUNNING.  Enough said.  This is a game that, even though it appears kind and sweet, will laugh at you as you stumble to a 30 point loss to your opponent if you are not careful.  
Flowers don't read good
* Amazing art
* Super streamlined gameplay
* For a game with very few mechanics it has an impressively big decision space
* This is a very light game, do not go into it expecting huge depth
* The game can leave you far behind when it comes to end game scoring, there is no handholding